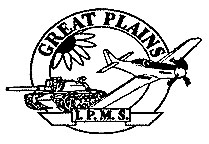 IPMS Great Plains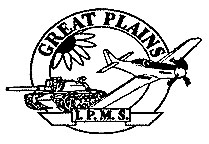 presents

KC CON 2002

March 23, 2002


Directions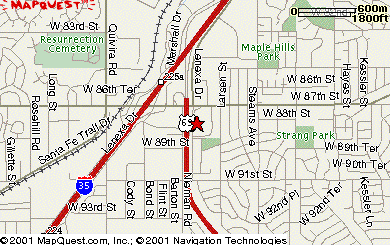 Click on map to go to MapQuest for additional information.
Overland Park, KS is a suburb of Kansas City, MO (Kansas City is the largest metropolian area in the US divided by a state line) and is located in the southwest portion of the Kansas City metropolitan area.
NOTE - We understand there was some confusion last year regarding directions to KC CON. We apologize for any confusion caused. Please be aware that US 69 was formerly routed onto Metcalf Avenue, but has been since routed onto Overland Parkway (this road is a divided limited access highway and resembles an interstate highway). We have also noted that some highway signs are confusing. To help alleviate any future confusions, the directions below lists the major intersection on I-35 prior to the 87th Street Parkway exit and approx. distance so you can be alerted to being in the correct vicinity of you upcoming exit. Also, you can click on the above map to go to the MapQuest website where you can access an interactive map.
Directions to KC CON:
From the North - I-35 south to 87th Street Parkway. Left (east) onto 87th Street. Then to Reeder Road (right after the US 69 overpass). Right on Reeder Road to hotel. [US 69/Overland Parkway exit is less than 1/2 mile prior to the 87th Street Parkway exit.] Note - the directions on the KC CON flyer is in error. These are the correct directions.
From the East - I-70 to I-35 South. I-35 South to 87th Street Parkway. Left (east) onto 87th Street. Then to Reeder Road (right after the US 69 overpass). Right on Reeder Road to hotel. [US 69/Overland Parkway exit is less than 1/2 mile prior to the 87th Street Parkway exit.]
From the South - I-35 North to to 87th Street Parkway. Right (east) onto 87th Street. Then to Reeder Road (right after the US 69 overpass). Right on Reeder Road to hotel. [95th Street exit is less than one mile prior to the 87th Street Parkway exit.]
From the West - I-70 east to I-35 South. I-35 South to 87th Street Parkway. Left (east) onto 87th Street. Then to Reeder Road (right after the US 69 overpass). Right on Reeder Road to hotel. [US 69/Overland Parkway exit is less than 1/2 mile prior to the 87th Street Parkway exit.]